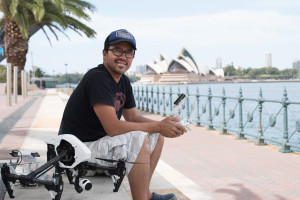 ABOUT MATT
Matt has had a passion for flying and technology since his very first memories at the age of 3. It was not until the age of 8 (1978) that Matt flew his first RC model and has never looked back since. If it's RC and it flies Matt has flown it, and his RC aircraft experience includes Jets, Blimps, Gliders, Helicopters, Multicopters, and Aerobatic Aeroplanes.
Matt attained a Commercial Pilots Licence in 1989 and an industrial design degree in 1997, and these two skills has enabled Matt to develop and innovate a number of Drone and Gimbal developments in electro mechanical nature to produce super smooth high quality digital footage in most weather conditions.
With Matts flying abilities, and best of class drones and cameras, we are always able to get amazing results for all of our clients in a safe and controlled environment.
Aside from flying, Matt is constantly developing new and exciting technologies, using 3D rapid prototyping, for use in Aerial Cinematography to allow Rotor Works to remain amongst the the lead innovators in the industry. Matt leverages his skills for these creations from his many years of experience in the special effects and model making industry.
Matt holds a Commercial Pilots Licence, A Chief UAV Controllers Certificate and a degree in Industrial Design.